University of Louisville Improves Regulatory Efficiency and Compliance
University of Louisville needed a modern eRegulatory system to streamline documentation at their clinical research site. Discover how they:
Increased standardization and efficiency
Improved visibility across studies
Reduced monitoring time and costs
Read their story
A Guide to Evaluating eRegulatory Software
Researching eRegulatory management software for your clinical research site? Start with this easy-to-follow buyer's handbook on the most important features to consider. Download this guide to review:
Core features of eRegulatory software
Industry drivers for change
15 questions to ask vendors during your evaluation
Download buyer's guide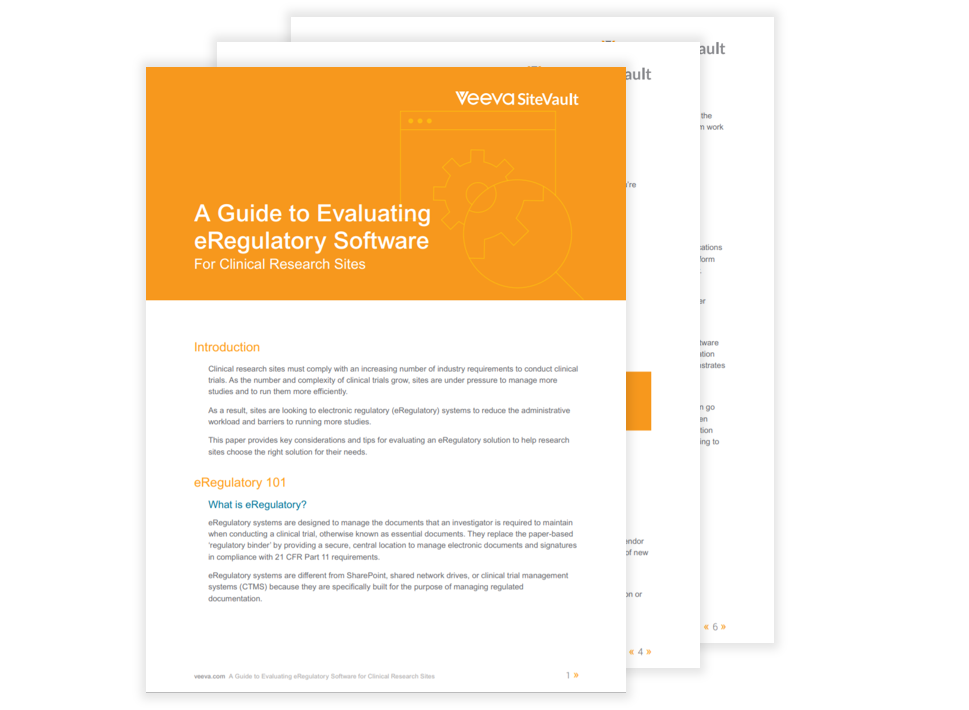 "As a private practice with multiple clinic research sites, we needed an eRegulatory solution to reduce the time and effort of managing regulatory binders. Veeva SiteVault Free gives us a high-quality, free cloud solution to access, file, and search regulatory documents easier and maintain compliance with less burden."
Clinical Research Manager | Minnesota Urology
"Trying to eliminate inefficient paper processes, chasing signatures, and not being able to certify documentation was costing us a lot of time. Veeva SiteVault helps us stay competitive and responsive in a complex research environment."
Clinical Regulatory Director | University of Louisville
Previous
Next
Steps to Overcome Information Overload in Clinical Research
Get tips and strategies to reduce information overload and simplify how sites, sponsors, and CROs work together throughout the clinical trial process.
Access this on-demand webinar to learn:
How to measure and benchmark trial performance
Best practices for driving greater efficiency and collaboration
Strategies that reduce information overload in research
Access the on-demand webinar