Veeva SiteVault reduces the complexity of conducting clinical trials by connecting your regulatory operations to improve efficiency and compliance.
Manage regulatory and source documents in a single system that supports 21 CFR Part 11 and HIPAA requirements. With a real-time visibility across trials, SiteVault Enterprise improves operational efficiency, speeds study activation, and enables faster, higher-quality trial execution.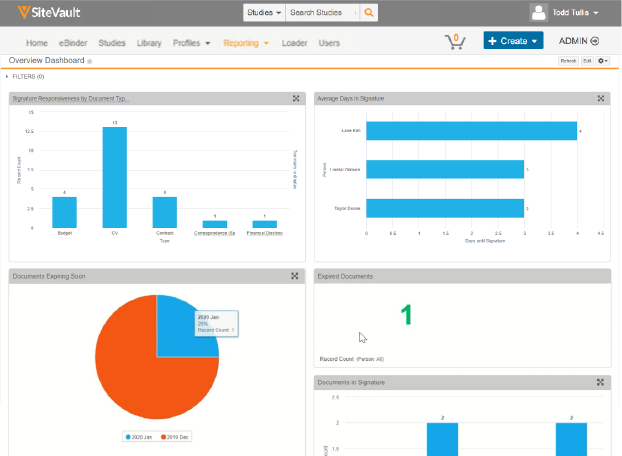 Speed Study Activation
Replace manual processes and design your own workflows to support quality and speed study activation.

Enable Remote Monitoring
Eliminate the need to grant EMR access or redact documents by providing monitors with secure, direct access to your regulatory and source documents.

Enhance Visibility and Flexibility
Create your own workflows, reports, and dashboards for greater visibility into start-up timelines and regulatory processes.
SiteVault Enterprise Features
Full eRegulatory System
Provide investigators and staff with easy access to study documents through an intuitive electronic regulatory binder that supports compliance with 21 CFR Part 11 and HIPAA requirements.
Remote Monitoring
Provide monitors with secure, direct access to review regulatory and source documents to assist monitors with source data review (SDR) and source data verification (SDV).
Electronic Signatures
Simplify approvals and replace printing, faxing, and scanning with fully electronic signature workflows that investigators and staff will love.
Auto-Filing and Auto-Naming
Reduce manual work and improve compliance with automatic naming and filing of documents. Quickly update CVs, medical licenses, and staff information across multiple studies with a single action.
Version Compare
View changes between two versions of a document with version comparison tools. Changes are highlighted eliminating the need for a line-by-line comparison.
Convert Documents to Searchable Text
Built-in Optical Character Recognition (OCR) converts all files to searchable text, helping you quickly find the documents you need.
Standard and Configurable Workflows
Save time and centralize tasks with built-in workflows for eSignatures and certified copies. Design your own workflows to support quality and speed study activation.
Configurable Reports and Dashboards
Improve visibility with built-in reports that provide visibility into open tasks, upcoming expiration dates, and signature turn-around timelines. Create your own reports and dashboards to see what's completed, what's missing, and much more.
Upload Source Documents in Bulk
Save time preparing for monitoring visits by uploading source documents in bulk.
See Demo
Flexible User Groups
Modify standard workflows to fit your SOPs. Provide visibility into study documents to different groups across your organization.
Unlimited Studies and Users
Support an unlimited number of users and studies. SiteVault Enterprise comes with full customer support from Veeva.
Secure Cloud Platform
Veeva SiteVault is designed to meet the rigorous content and data management requirements of the life sciences industry.
Learn More
Real-Time Collaborative Authoring
Seamless integration between Veeva Vault and Microsoft Office Online provides real-time collaborative authoring.
Learn More
Open API
Reduce duplicate data entry and streamline processes by integrating SiteVault with your other research systems.
Learn More
Enterprise Single Sign-On
Integrate with your institution's Single Sign-On solution to quickly log in and sign documents using the same set of credentials as your other applications
Unlimited Document Retention Period
Preserve your regulatory documents for as long as you use Veeva SiteVault.

"Veeva SiteVault Enterprise gives us a flexible solution to support the complexity of research operations at large research hospital systems and run trials faster."
Lala Akca
Executive Director of the Clinical Trials Unit, University of Louisville
Read More
"I truly appreciate the preparation and virtual engagement ideas Veeva has brought to our team. The team is incredibly responsive, listen to our needs, and are always able to quickly answer our questions to keep things moving. Your patience, attention to detail, and communication have been key components to our success in implementing SiteVault Enterprise."
Lauren Colvin
Manager of Clinical Research Informatics