Vault eTMF replaces paper binders and file shares by enabling sponsors, CROs, academic research organizations, and coordinating centers to digitally manage clinical trial documents across sites more efficiently and compliantly.
Stay organized and be proactive by gaining visibility into what's required, what's completed, and what's missing. Improve quality and inspection readiness with automated processes and workflows. Reduce administrative burden by reducing reliance on email, spreadsheets, and trackers.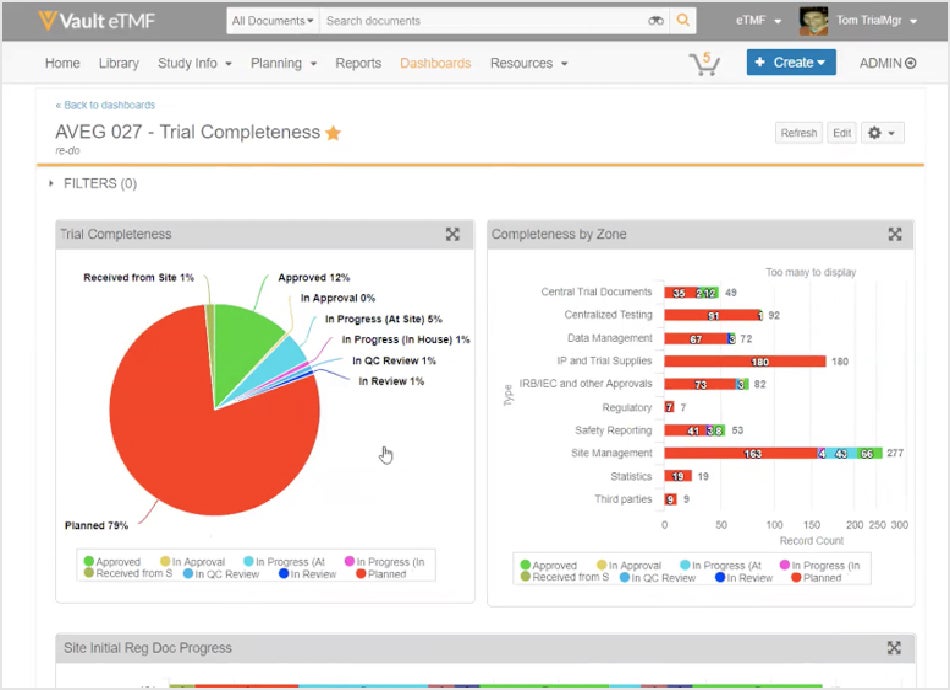 Be Proactive
Quickly identify missing documents, review upcoming expirations, and stay organized across participating sites.
Increase Visibility Across Sites
View interactive reports to answer questions and review document quality. Gain real-time visibility of TMF completeness to help sites work together to accelerate trials.

Access From Anywhere

Access TMF documents via any device from any location and manage study documentation across sites with ease.
Project Management
Track milestones and expected documents in real-time with visibility into completed or missing documents based on study milestones.
Interactive Dashboards and Reports
Quickly translate insight into action. Know what's required, what's completed, and what's missing across studies and participating sites.
Fast Review and Search
All files added to Vault eTMF are scanned and converted to searchable text, helping you quickly find the documents you need. Version comparison tools help you quickly review changes for improved visibility and compliance.
How to Search in Vault eTMF
Document Quality Control
Improve the accuracy of documents across your sites with quality-check workflows prompted based on study status or milestone. Quantify quality issues to identify where improvements are needed.
Document Editing
Seamless integration with Microsoft Office Online provides real- time collaborative authoring and does so in a compliant way.
Learn More About Document Editing
Scan Documents on the Go
Veeva Snap allows users to easily scan documents directly into Vault from an iPhone or iPad. With the snap of a button, documents are encrypted, secured, and automatically uploaded to your Vault.
Learn More
Streamline Collaboration
Give users an accurate, real-time view of trial information to help participating research sites work with you throughout the clinical trial process.
Full TMF Reference Model Support
Supports the documents, properties, relationships, and hierarchies of the TMF Reference Model for both core and recommended documents.