MyVeeva for Patients is a new application for clinical research sites that makes it easier to deliver a patient-centric and paperless clinical trial experience.
With capabilities for eConsent, virtual visits, patient adherence, and ePRO, MyVeeva gives sites more flexibility and makes it easier for patients to participate in clinical trials.
MyVeeva for Patients is free for clinical research sites and is planned for availability in February 2021.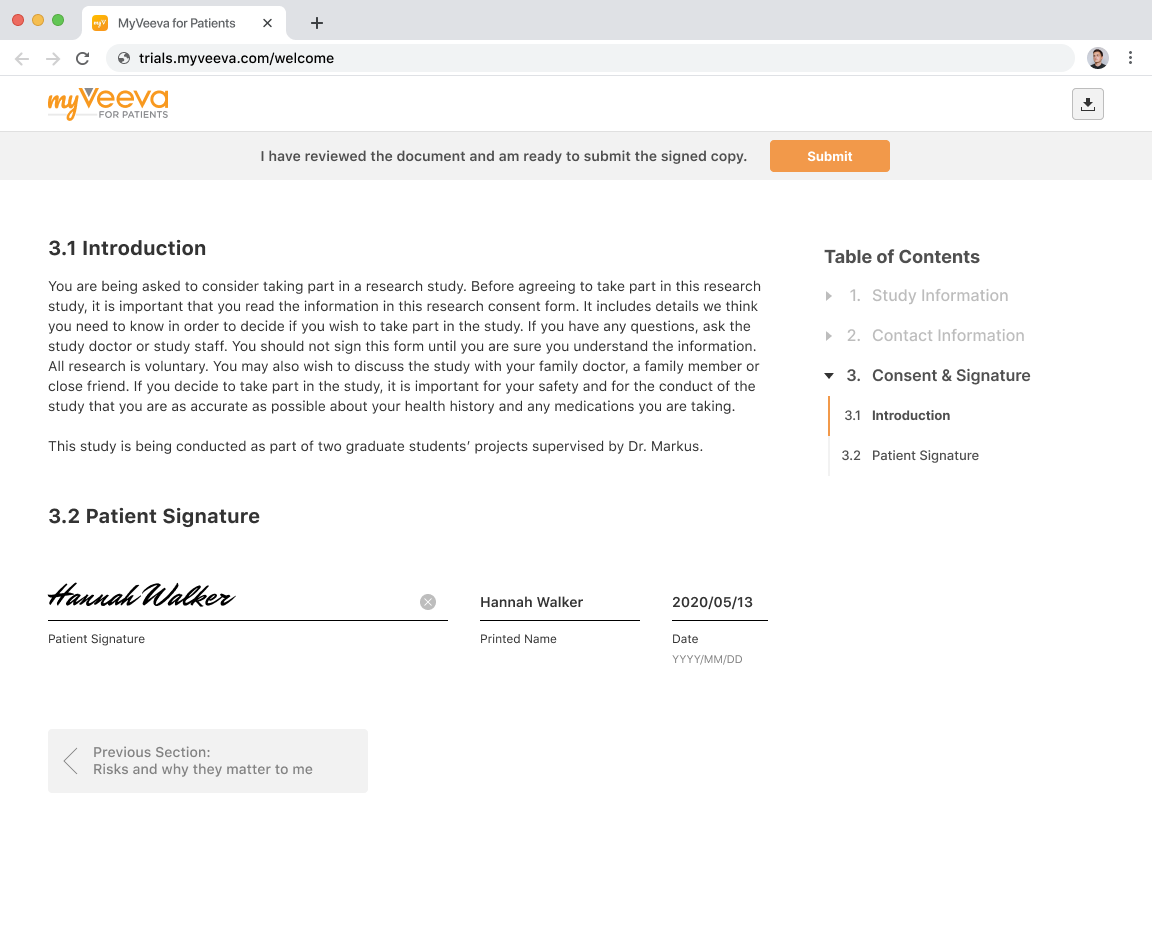 Improve Patient Enrollment and Retention
Collaborate with patients remotely to reduce patient burden and improve satisfaction.

Streamline the Collection of Data
Reduce redundancy and simplify the delivery, collection, filling, and storage of patient-related information.

Free for Sites
Engage virtually with your patients across all of your studies at no cost with a system that you own and control.
MyVeeva for Patients is Planned to Include:
eConsent
Easily share information and collect patient consent electronically with less time and effort. Allow patients to use their own device to provide consent for improved convenience.
Virtual Visits
Collaborate remotely with audio and video capabilities, allowing seamless communication between sites and patients.
ePRO
Replace paper questionnaires by allowing patients to report on treatment outcomes electronically, from their own mobile device.
Patient Adherence
Help patients take medications and adhere to their treatment regimens. Send reminders to patients about study activities to support protocol compliance.
Integrate with Veeva SiteVault
Connect seamlessly with Veeva SiteVault to reduce redundancy across studies and patients.
"Having the ability to conduct parts of a study remotely is key to a better patient experience and speeding study conduct. It's a crucial shift for the industry and I appreciate the innovation Veeva is bringing to this important area."
Jessica Collins
Program Director for Investigator-initiated Clinical Trials | Vanderbilt University Medical Center
Read More
Be the first to receive notifications and announcements about MyVeeva for Clinical Trials.
Sign Up Now