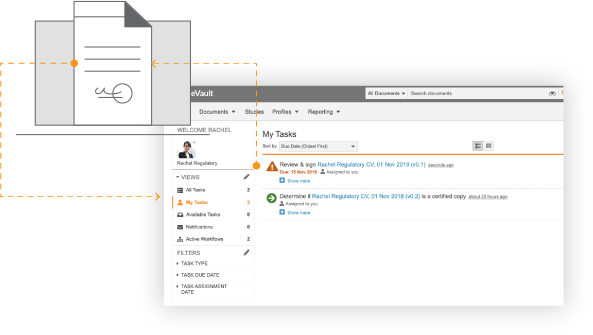 Reduce Administrative Burden
Replace manual and paper-based processes by managing regulatory and source documentation in a modern system that supports compliance with 21 CFR Part 11 and HIPAA requirements.
Built-in tools to capture electronic signatures, enable remote monitoring, and share trial documents simplify regulatory compliance so you can get more done.
Compare Plans
Enable Remote Monitoring
Provide monitors with secure, direct access to review regulatory and source documents.
Sites, sponsors, and CROs can remotely manage and track the workflow and downstream processes for source document review and verification. Sites and monitors can easily view, comment, and respond to questions in a single, centralized system. action.
Learn More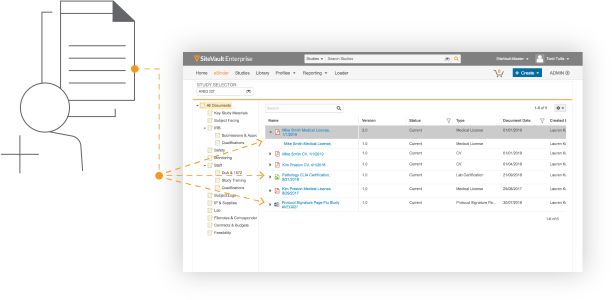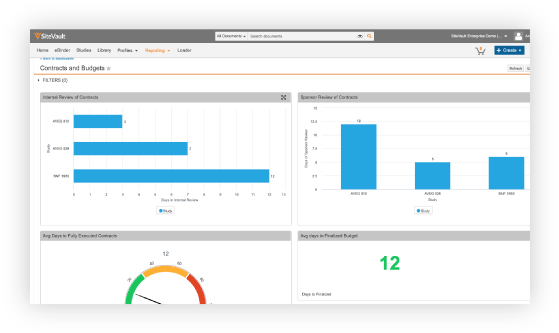 Increase Visibility
Gain real-time visibility into document status to improve compliance and oversight.
Interactive reports and dashboards provide insight into open tasks, document expiration dates, signature turn-around times, and much more.
Review Features
"I'm excited by what Veeva is doing to help the industry. As a high-volume ophthalmology site, we needed a solution that allows sponsors to access our study data. Veeva SiteVault Free gives us a free, compliant solution to manage regulatory documents and provide remote access to source information."
Keystone Research
"I truly appreciate the preparation and virtual engagement ideas Veeva has brought to our team. The team is incredibly responsive, listen to our needs, and are always able to quickly answer our questions to keep things moving. Your patience, attention to detail, and communication have been key components to our success in implementing SiteVault Enterprise."
Manager of Clinical Research Informatics
"SiteVault Free is so easy to set-up and use – my coordinators were able to access the software quickly and use it to reduce their workload within days."
Alliance Clinical Research
"There's a significant opportunity to improve how sites and sponsors collaborate and share information throughout the course of a clinical trial. Veeva SiteVault Enterprise gives us a flexible solution to support the complexity of research operations at large research hospital systems and run trials faster."
Executive Director, Clinical Trials Unit | University of Louisville
"Veeva is helping sponsors think differently about supporting their clinical research site partners. Veeva SiteVault Free will allow all types of sites to standardize on the same Veeva Vault technology that is widely utilized by their sponsors."
Member of SCRS Leadership Council and Former Head of U.S. Site Management and Monitoring | AstraZeneca
"SCRS applauds Veeva's site-centric approach. There is a significant opportunity for solution providers to include sites' perspectives when designing technology. When technology solutions reflect site needs, they are more effective in achieving their goal to streamline workflow processes."
President | Society for Clinical Research Sites (SCRS)
Previous
Next
Veeva's cloud solutions are trusted by more than 875 customers in 165 countries.