Remote monitoring in
Veeva SiteVault Free
See Demo
---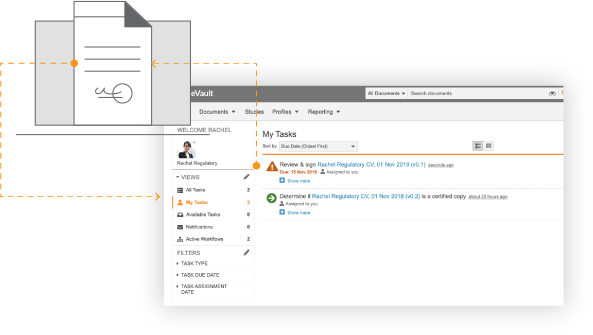 Reduce Administrative Burden
Replace manual and paper-based processes by managing regulatory and source documentation in a modern system that supports compliance with 21 CFR Part 11 and HIPAA requirements.
Built-in tools to capture electronic signatures, enable remote monitoring, and share trial documents simplify regulatory compliance so you can get more done.
Compare Plans
Speed Study Activation
Eliminate repetitive tasks and accelerate turnaround timelines to activate studies sooner.
Streamline the management of CVs, licenses, and staff documents with automatic filing and intelligent version control. Quickly compare changes, edit documents, or flag changes for others with powerful collaboration and annotation tools.
Learn More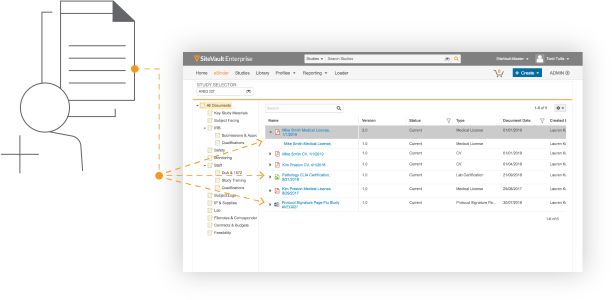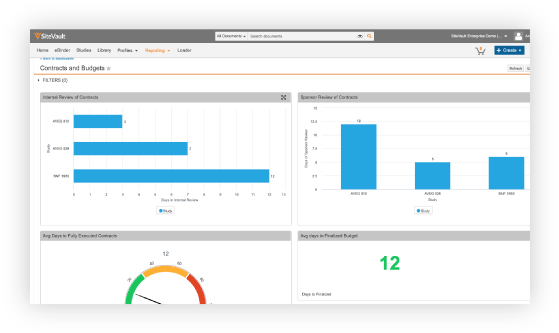 Increase Visibility
Gain real-time visibility into document status to improve compliance and oversight.
Interactive reports and dashboards provide insight into open tasks, document expiration dates, signature turn-around times, and much more.
Review Features
"There's a significant opportunity to improve how sites and sponsors collaborate and share information throughout the course of a clinical trial. Veeva SiteVault Enterprise gives us a flexible solution to support the complexity of research operations at large research hospital systems and run trials faster."
Executive Director, Clinical Trials Unit | University of Louisville
"Veeva is helping sponsors think differently about supporting their clinical research site partners. Veeva SiteVault Free will allow all types of sites to standardize on the same Veeva Vault technology that is widely utilized by their sponsors."
Executive Director, Development Operations | AstraZeneca
"We're pleased to partner with Veeva and have the opportunity to leverage an innovative solution that's designed for how sites work. Veeva SiteVault gives greater visibility into regulatory document status and makes it easier for the clinical research community to conduct high-quality, compliant clinical trials."
Founder and CEO | IACT Health
"SCRS applauds Veeva's site-centric approach. There is a significant opportunity for solution providers to include sites' perspectives when designing technology. When technology solutions reflect site needs, they are more effective in achieving their goal to streamline workflow processes."
President | Society for Clinical Research Sites (SCRS)
Previous
Next
Veeva's cloud solutions are trusted by more than 700 customers in 165 countries.