Veeva eConsent is a new way of thinking about the consenting process for sites and patients.
Break free from legacy tools and long paper documents. Give your patients access to a modern digital consent experience that fits into their daily lives. Use eConsent across all your studies to drive efficiency, quality, and provide better patient care.
Veeva eConsent is fully validated by Veeva and supports compliance with HIPAA, 21 CFR Part 11, and regional data privacy requirements.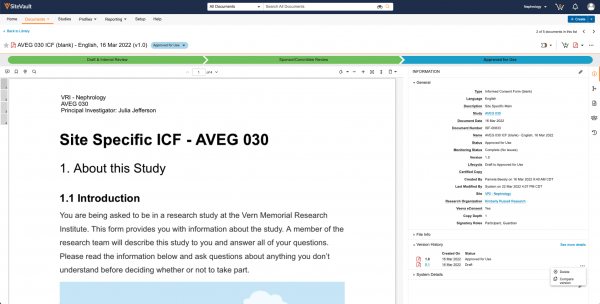 Why Choose Veeva eConsent
End-to-End
The only eConsent solution that manages the full consenting lifecycle between sponsors, sites, and patients – allowing sites to operate in a single, site-owned system.

Complete Visibility
The system's unique ability to manage both documents and data provides full visibility into all aspects of the consenting process for improved compliance and efficiency.

Better Patient Experience
Includes a patient-centric application that creates a seamless digital consenting experience and removes barriers to trial enrollment.
Flexible Consent Options
Enable in-person or remote eConsent on any device. A signed copy of the ICF is stored in the patient's app and can be downloaded anytime.
Compliant eSignatures
Patients and study staff sign ICFs in full compliance with 21 CFR Part 11.
Reporting
Full visibility of patient consent status, date, and version gives sites and monitors the vital information needed to support compliance.
Version and Audit Controls
Automate versioning and view date/time stamps for better compliance and traceability. Easily compare documents to previous versions to see what has changed.
Focused Review
Guide patients with an easy-to-navigate layout and ensure all sections are reviewed prior to sign-off.
Sharing and Collaboration
Easily share and collaborate on informed consent forms between sponsors and sites.
Editable Consent Forms*
Modify ICFs with easy-to-use editor tools to standardize consent forms across your studies. *Paid add-on.
Interactive Content*
Easily add images and videos to aid in comprehension. Add custom questions to collect additional information and enhance the consenting process. *Paid add-on.
Seamless Integration with SiteVault
Manage eConsent across all studies through SiteVault, reducing administrative burden and training requirements.
Validated and Secure
Veeva eConsent is fully validated by Veeva and supports compliance with HIPAA and regional data privacy requirements.

The continuity of having information at your fingertips and being able to answer questions instantly is invaluable.
Staci McDonald
Vice President Global Scientific Clinical Operations, Celerion
Read Customer Story
"Veeva eConsent makes the process easy for our patients and allows us to break down the barriers of paper and location, expanding the reach of our study."
Charles Sydnor
Project Manager, Croofoot Research Center
Read More
Frequently Asked Questions
How do I get access to Veeva eConsent?
Veeva eConsent may be provided by your sponsor for a study or enabled within your SiteVault account as a paid add-on to use across all studies. Contact us to learn more.
Can Veeva eConsent be used independently from other features in SiteVault?
Yes. While you must have a SiteVault account, you can choose to only use the eConsent functionality within SiteVault on all studies or only specific studies.
Can Veeva eConsent be used across all my studies?
Yes, creation of eConsent for use across all your studies is available as a paid add-on. Veeva eConsent is not a sponsor-specific platform, which allows you to standardize your SOPs, workflows, and training for consenting across all studies to improve compliance and efficiency. Learn more about the benefits of a standard eConsent solution here. Learn more about the benefits of a standard eConsent solution here.