SiteVault eReg is a 21 CFR Part 11 compliant Investigator File (ISF) that connects to sponsors that use Veeva Clinical applications to streamline document exchange.
SiteVault is site-owned, therefore you control the data and users, and decide what documents to share and with whom to share them. All documents within the system are owned and controlled by your site.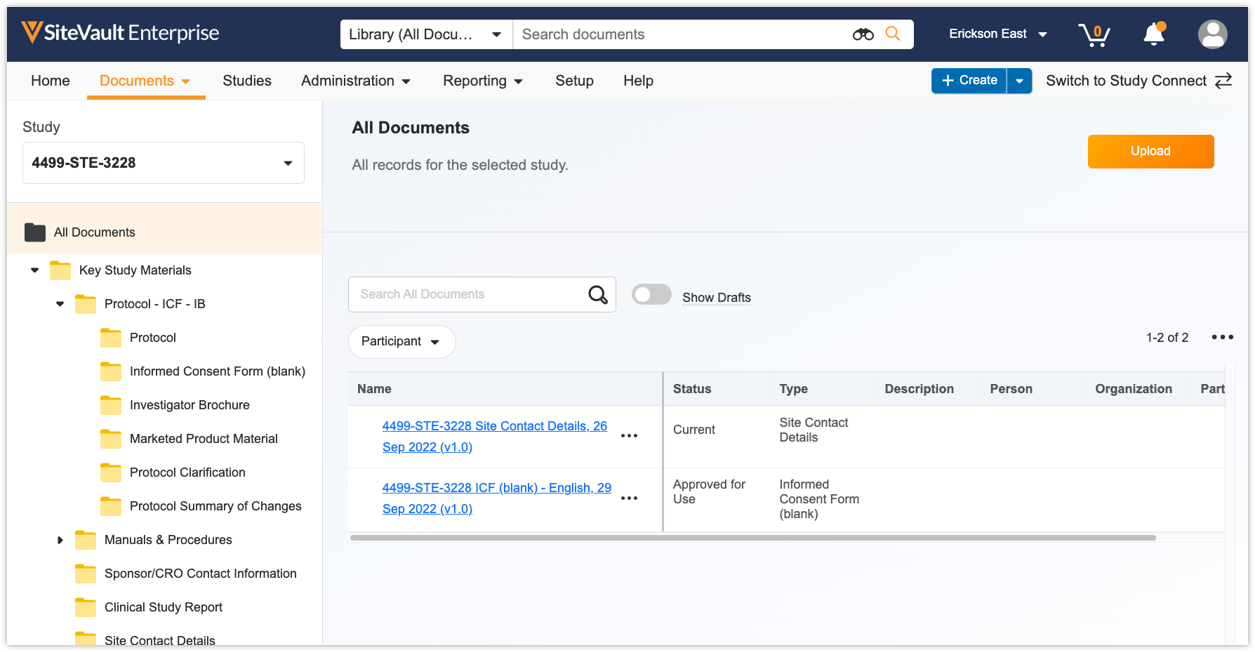 Step 1. Add Study Team Members
Adding your staff to SiteVault enables you to reuse staff documents, send training documents, and enable eSignature. You can manage all new staff and external users in the Administration tab.
Navigate to Administration > Staff and select 'Create.'
Enter the study team member's organization email then select 'Check Email' (SiteVault will search to determine if the person already exists.)
If the user doesn't exist:
Add first and last name, PI (Y/N), and username.
In the 'System Access and Permissions' section, choose the access for the person using the dropdown.
Click 'Save.'
If the user exists:
Select "Click Here" on the right-hand side to create your staff.
Add first and last name, PI (Y/N), enter the username,
In the 'System Access and Permissions' section, choose the access for the person using the dropdown.
Click 'Save.'
Related video: Managing Users, System Roles, and Add-on Permissions
Step 2. Add A Study
Now it's time to add your study. Keep in mind, there is no limit to the number of studies, staff, or documents that you can add to SiteVault.
Most sites prefer to begin with a study that is in the start up phase. To discuss the best approach for your site with a product expert, please reach out to the Site Success team.
Navigate to the 'Studies' tab and select 'Create.'
Enter the Study Name and click 'Save.'
Related Video: Managing Studies
Step 3. Assign the Study Team
Site staff must be assigned and active on a study to file their documents (e.g. CV, Medical License, GCP Training) to the eBinder and participate in workflows, such as eSignatures. (see additional resources for more info).
Navigate to Study Assignments on the Study.
Select 'Create' and choose a role from the dropdown. Select the user from the dropdown and click 'Save'.
Change the State from 'Proposed' to 'Active'.
To continue adding study team members, click 'Save and Create'. Then, in the Staff Assignments section, click the ellipses (…) next to the staff and select 'Change State to Active'.
Step 4. Assign Partner Organizations to a Study
Partner Organizations are service providers or vendors that you collaborate with during a study, such as CROs, IRBs and Labs.
Partner organization documents can be uploaded and shared across studies. For example, one lab document will automatically file to five studies, if the lab organization is assigned and active on those five studies.
Navigate to Partner Organizations on the Study.
Select Create, then choose from Organization dropdown
Select the Organization type, select ''Continue.' Enter the organization's name and select 'Save.'
Select the appropriate Role, and click 'Save'.
Change State from 'Proposed' to 'Active.'
Related Video: Assigning Study Teams, Organizations, and Products
Step 5. Upload and Finalize Study Documents
After adding a document, you will be prompted to enter additional information about its content. This generates the document name, determines where it's filed in the eBinder, and enables reporting.
Once a document is finalized, it will also auto-file to the eBinder and be available for monitoring review.
Navigate to Documents > eBinder.
Select the appropriate study from the Study Selector (top left), then click 'Upload.'
Select file to upload.
Choose Document Type from the dropdown and add the requested information. Fields highlighted in yellow are required. Add additional information, then click 'Save.'
The document is now in a draft state (v0.1) and needs to be finalized. Select the document and use the workflow chevron icon to update the document to a final state (depending on the document type, this will be 'Approved For Use', 'Current', or 'Final'.
Once in a final state, the document version number will be updated to v1.0 and the document will be available for monitors to review.  Learn more about document versioning.
Get answers on how-to questions or support with technical issues.
Contact Support