Study Connect is an application within SiteVault to securely access and exchange trial information with sponsors using Veeva Clinical applications.
You can easily navigate to Study Connect or eReg using the toggle button on the top right corner of SiteVault.
Before using Study Connect:
Locate your Universal Site Number (USN) by navigating to Study Connect and hovering over the site name in the top right corner. You will need to provide your USN to your sponsor/CRO so they can send you a Study Invitation.
Ensure there are at least two Site Administrator users so your team has a primary and a backup user.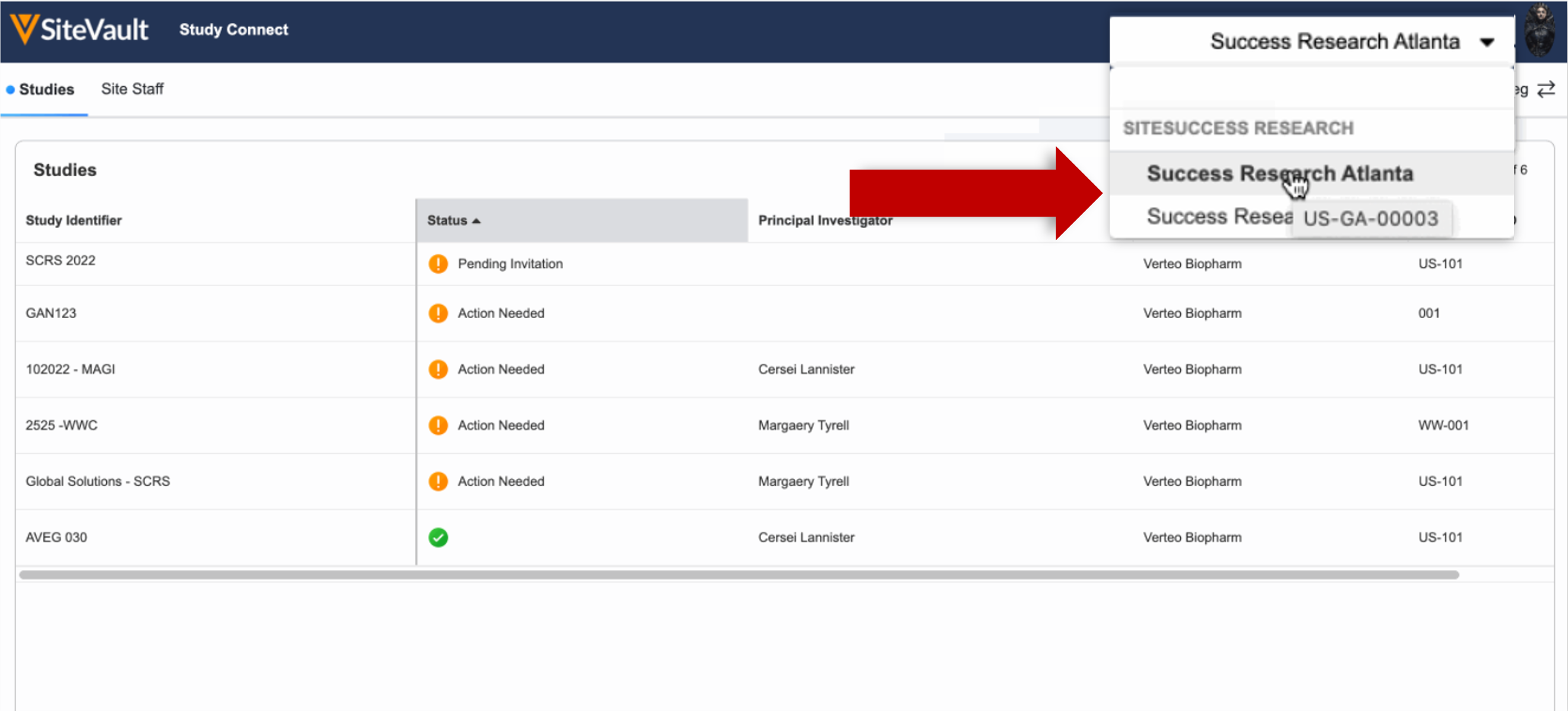 Follow the Steps Below to Get Started

Step 1. Accept the Invitation to Connect
Since you own and control the data in SiteVault, accepting the study invitation indicates that you grant permission to exchange documents with your sponsor in Study Connect.
Site Administrators will receive an email notification that a Connected Study Invitation has been received.
Login to SiteVault Study Connect and navigate to the Studies tab. Here you will see the study identifier and a status of "Pending Invitation".
To accept the invitation, select the study, review study details, and resolve study/product.
Once you click accept, the study and product will be created.
Accept the Invitation to Connect
Step 2. Add Study Team Members
Since SiteVault is your system, you can easily add your study team who will need access to exchange documents with your sponsor.
Navigate to the Site Staff tab in Study Connect and select 'Create New Site Staff.'
Enter the user's general information. Note: if the user does not need to log into SiteVault, you can leave the username field blank and create a "Non-User Person."
Select next and assign the user to any relevant studies.
Once created, the user will be given the Site Staff role and receive a welcome email.
To edit user settings, reset a password, or resend a welcome email, select the action menu next to the staff member's name.
Related Video: Creating and Managing Users
Step 3. Complete the Regulatory Packet
The Document Exchange tab within the study provides a centralized place to access all documents that the sponsor requests you to update and return or provide originals of.
Site Administrators will receive an email notification when Document Actions are requested by the sponsor. Navigate to the Studies tab, select the study with a status of 'Action Needed,' and follow the instructions below.
Update and Return a Document
Documents that require updates before returning to the sponsor.
Click the download icon to download a copy of the document and make edits.
Once the edits are complete and the new copy is saved to your computer, use the envelope icon to upload the document.
Click 'Send'.
Provide a Document
Documents that require you to provide the requested document from your files and send it to the sponsor.
Select the envelope icon next to the document request to upload the document from your file explorer.
Click 'Send.'
Send Additional Documents
Send documents to your sponsor that are not attached to an existing request. 
Select and upload documents from your file explorer. Note: You can select up to 100 documents at a time.
Assign a document type to each document from the drop-down.
Once complete, click 'Send.'
Navigate to the Documents tab within Document Exchange to see all documents that have been sent to and received from the sponsor.
Related Video: Exchanging Documents in Study Connect
Step 4. Acknowledge Safety Distribution
If your sponsor is utilizing Safety Distribution along with Document Exchange, you can easily review and acknowledge safety documents within Study Connect.
Site Administrators will receive an email notification when a new safety document is available.
To view safety documents, navigate to the "Safety Distribution" tab of the study within Study Connect.
Acknowledge by selecting the checkbox next to a document, and clicking 'Mark as Read.'
Select multiple documents at once to acknowledge in bulk, if applicable.
Related Video: Safety Distributions
Once all actions are complete for a study, you will find a green check mark under the status of the study.
Congratulations, you have successfully completed your regulatory packet!
Study Connect Video Tutorial
Learn how to use Study Connect in a detailed, self-paced video tutorial.
Access Tutorial
Training
Learn at your own pace using our on-demand training videos courses.
View Courses
YouTube Videos
Watch bite-sized tutorials on the SiteVault YouTube channel.
Watch Videos
Help Center
Find comprehensive, self-service resources to learn more about SiteVault.
Visit the Help Center
Customer Community
Join customers and experts to hear best practices and share feedback.
Join the Community
Get answers on how-to questions or support with technical issues.
Contact Support